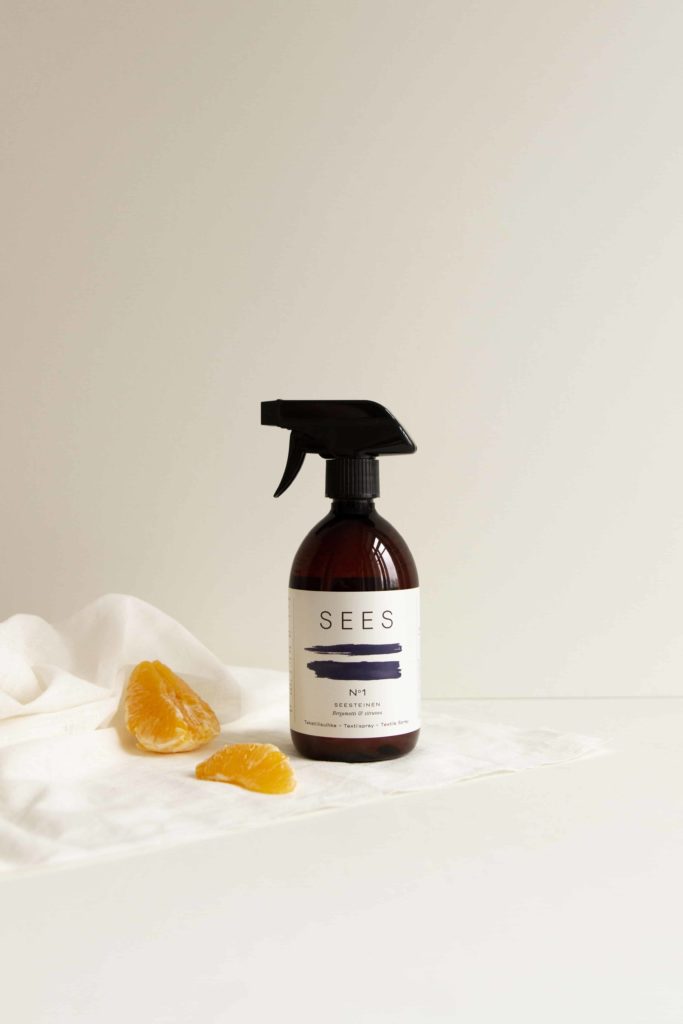 Do you feel like cleaning the boot of a pet household's car, a stale sofa or rug at the summer cottage, a yoga mat or even the armpits of a suit coat? The SEES textile spray is the result of a long product development, a natural and biodegradable answer to freshen hard-to-wash textiles and neutralise unpleasant odours. SEES textile sprays are organic, spirit vinegar based and scented with only 100% real essential oils.
There are two fragrance options:
Sports equipment cleaner
We all know what, for example, hockey equipment smells like. Sweat sticks to the equipment, making it impossible to wash in a washing machine. The same goes for many other sports equipment, such as yoga mats, shoe insoles or sneakers. After washing, the garment smells musty and stale, even mouldy. Even if you can wash them in the washing machine, it's difficult to get the stubborn smell out. Water and detergent do not always work, especially if the material is artificial. The armpits of your training shirt stink, even though it has just come out of the laundry.
The secret of spirit vinegar lies in chemistry. Vinegar neutralises odours from textiles, rather than masking them. Odours that have clung to the textile fibres are neutralised. As well as removing bad odours, spirit vinegar does for man-made silk what a mangle does: it seals the fibres of the textile after neutralisation, making it harder for dirt to stick to it. The vinegar in SEES textile spray eliminates bad odours, leaving only the fresh scent of essential oils.
Textile spray for home cleaning: removes limescale stains from sauna doors and shower walls and black stains from wood surfaces
SEES textile sprays are also ideal for many other surfaces in the home. Spray the textile spray on the corner of the kitchen towel and gently rub stains from wooden surfaces, for example from a ballpoint pen. You can also spray the textile spray directly down the drain, let it work and rinse with water. You can also clean your shower curtain by spraying the textile spray directly on the curtain and leaving it to take effect for about an hour. Then machine or hand wash the curtain lightly. You can leave a fine layer of spray on the curtain at the end to prevent mould from forming on the shower curtain.
Thanks to its acidic properties, the textile spray is also suitable for cleaning limescale and soap deposits in the bathroom. If there are limescale droplets on the glass door or shower wall, spray a textile spray on the glass surface, wipe with a soft sponge and rinse thoroughly. Don't rub, so as not to scratch the glass.
The textile spray is ideal for hard surfaces in the home as a general purpose cleaner. However, due to its acidic nature, a spirit vinegar-based textile spray is not suitable for aluminium, enamelware, limestone, marble and polyacrylate. Always test the suitability of a textile spray first by applying a small amount to an inconspicuous area, both on textiles and on all other materials. Read more tips on using vinegar on Rajamäki's website.
Domestic, biodegradable and easy
All SEES Company textile sprays are handmade in Finland, using the best possible raw materials. The textile sprays are based on organic quality spirit vinegar, which has been combined with an optimal amount and combination of different essential oils after a long product development process. Essential oils refresh and invigorate the mind while you're at home. The scent of vinegar evaporates as it dries and the mild fragrance of essential oils takes over your home. SEES – In harmony with everyday life.